DIY Baby Clothes Quilt Kits & DIY Books
Thinking about creating your DIY baby clothes quilt at home? Here at Jelly Bean Quilts for the inspiration, but have some beginner-moderate sewing skills and looking for tips and tricks and patterns – or want to know exactly how to create your DIY baby clothes quilt?
Don't just wing it! I have created a complete online course and/or kit just for you – available as an instant download PDF plus 2 hours of step-by-step online videos! You can add on the hard-copy book for convenience, or purchase the complete baby clothes quilt kit and have everything you need for the entire project!!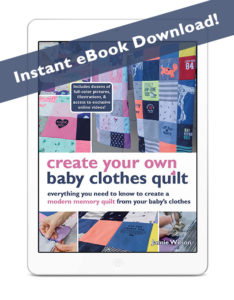 Complete eCourse
Want to get started on your baby clothes quilt right now? Love the convenience of an ebook? Don't mind a trip to the fabric store for any needed supplies? The Create Your Own Baby Clothes Quilt Online Course with eBook, PDF templates, and instant access to online videos is the perfect choice for you!
70 pages of gorgeous full-color photography show you step-by-step instructions, as Jamie walks you through each step of the process. From choosing your clothing to prepping your squares to sewing and quilting your quilt – it's all covered in detail in this book!
Click here for the instant download eCourse >>>
Spiral Bound Book + eCourse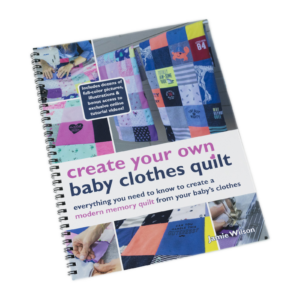 Love the feel of having a hard copy book in your hands? Prefer spiral bound crafting and quilting books because you can leave them open to the page you need, and keep them next to your sewing area without having to track down your tablet and find your spot everytime you get back to your project? Like the convenience of pre-printed cutting templates?
The 70-page spiral bound 8.5×11 book is for you! This is an absolutely gorgeous book, printed in full color on high quality paper. It's full of tips, tricks materials lists, step-by-step tutorials and more!
This option also comes with instant access to the online video tutorials (passcode found in the back of the book in the "Online Extras" chapter) as well as access to the ebook download and downloadable cutting templates for your convenience, or for future quilts!
Click here for the Spiral Bound Book >>>
DIY Baby Clothes Quilt Kit + Spiral Bound Book + eCourse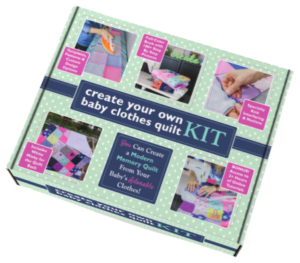 Want to use the exact materials I use to create my baby clothes quilts? Looking for a complete, turn-key solution without having to take a special trip to the fabric store for specialized interfacing, minky, or thread? Looking for a unique baby shower gift, Christmas gift or Mother's Day gift for a crafty new mom?
The complete, all-inclusive kit is for you! Kit includes the online course with PDF and online tutorial videos, PLUS the spiral-bound hard copy book and pre-printed cutting templates, PLUS a complete package full of all the materials and notions you need! Special knit interfacing designed to work perfectly with your thin baby knits, soft white minky for the backing, adorable heart-shaped straight pins, safety pins, and high quality Gutermann thread are all included in this beautiful kit – the perfect all-in-one solution!
Click here for the complete Baby Clothes Quilt Kit >>>