How many pieces of clothing should I send for my memory quilt?
This is the most common question, and I will have to refer you to either my Pricing page or my Order Form since it's a fairly long list of sizes! These pages both let you know my minimums for each size, and they are still correct.
Can I send more than the minimum number listed?
ABSOLUTELY! The minimum is really the bare minimum – the least that you should send – and I wanted to keep it as low as possible so that as many people as possible would be able to get the size they wanted. But the more you send, the more personality your memory quilt has (and the easier it is for me to piece it all together), so you can send up to double the listed amount if you want!
When I have lots of clothing, I will always use all the cute parts first & generally leave out the solid white backs of onesies & t-shirts, etc. – so you don't need to worry that the cute part will get left out!
Can you use swimsuits/costumes/curtains/beads/a pillow/dance outfits/hand knitted items/lace/frilly dress in my memory quilt?
Simple – if it's fabric, I can use it! I will find a way! If I can't (typically only baseball hats with plastic inside the bill & shoes that are too thick,) I'll send the item back with your memory quilt (uncut/undamaged, of course).
Can I organize my clothing from most important to least important, put notes on the clothing, etc?
Sure!! Anything you want! Lots of people send 2 bags of clothes in the box – the "must-haves" and the "extras." Other people pins notes to important pieces. Feel free to give me any guidance you would like!
Can I combine girls & boys clothing into one quilt?
Yes! I've done many combination quilts and they always look great (although I'm biased!) Here's an example: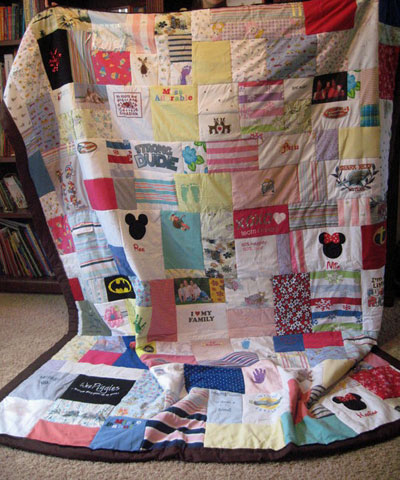 What's Minky?
It's a plush, comfy fabric that is all the rage in baby gear! Here's a pic (also one in the top of the sidebar):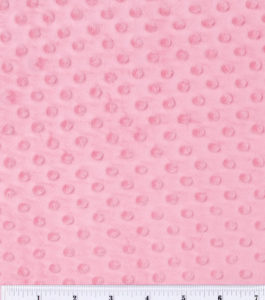 What is your pricing?
Check out either my Pricing page or my Order Form. I make sure to keep it all current.
Do you ever have any specials?
I always give 10% off orders of multiple memory quilts. If you want to pair up with a friend & send your items in as one order, that's great! I also have a military discount – please contact me for details on that! If I do have something else going on, it will be on my home page, Facebook page & on my order form.
How should I send you my clothing?
Whatever works best for you! You can use any shipping method & packaging you would like – in fact, many people put everything in a diaper box, put lots of shipping tape on the seams & stick a shipping label on the front! I recommend UPS or FedEx, just because I like the online tracking.
Do you ship overseas?
Yes! I have done many quilts from customers around the world – Australia, Middle East, Europe, Canada & Mexico! For shipping internationally I use the US Postal Service – I just use their website to get an estimate on the shipping cost, and use that instead of the $15 domestic flat rate. Here's the link to their international shipping calculator if you would like to check on rates (a quilt is usually 3-10 pounds, depending on size, and is 12x12x12 or greater): http://postcalc.usps.com/
How do I care for my memory quilt?
My rule of thumb is this: Care for your memory quilt the same way that you would care for the most delicate item in the quilt. So if there is a truly dry-clean-only item (like cashmere or a silk baptism gown, something like that) included, I would dry clean the whole thing.
If not, and it's just synthetics & cottons, my quilts are definitely machine washable! Machine wash cold on a delicate cycle… you just don't want any colors to run (all of my fabric is pre-washed, so you shouldn't have anything to worry about – unless you know there's a red onesie in there that you never actually washed!)
To dry, simply tumble dry low/gentle. There's typically a mixture of many different types of fabrics, so you want to just be delicate/low heat so they all dry evenly! Of course, hanging to dry is always ideal for longevity, since lint is actually just the slow demise of fabric… but a tumble dry now & then shouldn't hurt! 🙂
Do you do other commissioned quilts from a pattern I send you or fabrics I choose? Do you make regular baby quilts that I can give as a gift (not out of baby clothes?)
At this time, I'm actually not doing projects apart from my clothing quilts – they are my true passion, and I am booked well in advance with just those, so I'm sticking to what I love the most!!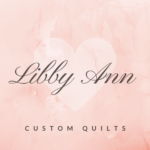 However, I can recommend a fantastic quilter for all your "regular" quilting needs – Libby Ann Custom Quilts is owned by a close friend of mine – we actually graduated from Drake University together! She does beautiful work, has years of experience, & has my full endorsement, so check out her site and contact her with your ideas!
Can you repair my antique quilt? Can you recreate a quilt my grandmother made?
Sorry, I don't offer this currently, but you would have the best luck by contacting a local quilting guild in your area!
Save
Save